Well, here is my contribution to Jen's concept!
Hi, my name is Schenley Pilgram. If you've ever been to Pittsburgh, you may be familiar with the name Schenley- there's a park and a drive and buildings and a high school. I grew up in a little town called Philipsburg, PA, which I joke is a suburb of State College, the home of Penn State University. I love reading, especially children's and young adult fiction; most of my favorite authors are British, interestingly. I love animals; I currently have a brother-sister pair of bunnies named Luke and Leia. My family loves listening to music and attending concerts - I've seen my all-time favorite band Jars of Clay more than 20 times. I'm an introvert, so my interests tend to be narrow and deep (and sometimes a little obsessive...) Some of my obsessions have included dinosaurs, Ghostbusters, Ninja Turtles, rabbits, MINI Coopers, The Office, and Glee. Yeah, I've always been a tomboy! I double-majored in Psychology and Christian Thought at Grove City College. After college I worked as a nanny for a few families in PA and CT before moving back to Grove City and working as a TSS with children on the autism spectrum. After nearly 2 years I quit my job and moved back home, and it's good to be back! I've been taking photographs since I was a preschooler and I am currently building a
photography business
.
I'm 27 years old and I am a quilter.
You're getting the long version of how I became a quilter- I hope you don't mind ;-)
I grew up surrounded by quilts. Mostly Mom just likes buying old ones, but she has also made quite a few. I remember watching her sew a few log cabin quilts in our basement when I was four, with me wedged between the sewing table and the wall on the side, balanced on the narrow baseboard heater. Here's what my well-loved quilt looks like today:
She also made me the COOLEST Halloween costumes.
When I was little I learned crafts like latch-hook, counted cross-stitch, and friendship bracelets. But quilting has always scared me off, because of the precision involved in cutting and sewing the strips or pieces *just right* - I've always been a perfectionist! I thought it would frustrate me.
Anyway, it all really started for me in the fall of 2009. I was at a quilt shop with my best friend while her mother picked up her repaired sewing machine. I saw the heart-shaped yo-yo makers by Clover and though my mom would LOVE that, since she loves both hearts and yo-yos. Then I realized I could make her something, instead of just giving her the maker. I made something to match the quilt she made for her bed, as well as some garlands for friends.
Then my best friend said the circle yo-yos reminded her of hydrangeas, so I made her a pillow. I searched the internet and learned how to make piping out of bias strips and how to applique the leaves. I've always been a do-it-yourself troubleshooter, so it's no surprise I discovered the great resources available online.
Speaking of great online resources- at some point a few years ago I stumbled upon the free fandom patterns formerly hosted on sewhooked.org, now on
Fandom in Stitches
(I think I was doing a Legend of Zelda image search). I knew nothing of paper-piecing, just the traditional piecing my mom had done, and I couldn't believe how detailed the patterns were!
Around the same time I was starting that pillow project I made my first paper-pieced block; I didn't have a sewing machine in my apartment, and I had been doing all of that hand sewing with the yo-yos, so I hand stitched this Triforce block. I couldn't believe how nicely all of the points turned out.
Anyway, after making the hydrangea pillow, I needed a project idea for my other best friend (and roommate at the time). She had a Welsh Corgi, so I looked online for a pattern and couldn't find anything. So I made the leap from sewing that simple Triforce block to designing my own multi-segment pattern! Talk about jumping in with both feet. I couldn't have done it without the
resources on Jen's website.
Then I got even more ambitious to make this gift for my favorite professor.
After that I started sewing the Harry Potter patterns on the site, as well as contributing my own. You can see more of my blocks and projects on
flickr.
My free patterns are available at
Fandom in Stitches
, and I have some animal patterns for sale on
Etsy
.
And for those of you who read this long post, enter coupon code FACE20 to get 20% your purchase in my etsy shop!
I'm also one of the designers contributing to the Hobbit-themed block of the month quilt:
I am so thankful for and excited to be a part of the online community of artists who are actually changing the landscape of quilting. Some of our quilts may have more flying brooms than flying geese, but I believe our great-great grandmothers would approve.
This is what happened:
It's a rag quilt, so I still have to snip the seams.

You can see more photos over at flickr.

And I've uploaded the patterns for sale on etsy :-)
Well, I posted end of January about this project. . . and it is nearly finished! Haha it evolved into a beast of a project. Instead of just making her a pillow like last time, I wanted it to be more practical. Like a throw blanket. Then I had to decide how to put 3 pandas on a blanket.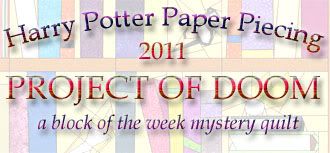 So, I am greatly enjoying the POD. Jennifer provided us with a great alphabetical list of books, but I decided to categorize them by subject. . . I still don't know how I'm going to put the titles on the books, but I am planning them as I go - even if I just have books labeled in my mind, or with a legend.
After I was halfway through sorting my list I found
this page,
but I finished the task for my own use. And I figured I might as well share it, in case anyone else finds it helpful. Obviously there are many ways to organize the books :-)

Charms
An Anthology of Eighteenth Century Charms
Achievements in Charming
Quintessence: A Quest

Runes
Advanced Rune Translation
Ancient Runes Made Easy
Magical Hieroglyphs and Logograms
Rune Dictionary
Spellman's Syllabary

Arithmancy
New Theory of Numerology
Numerology and Gramatica
Hermione
An Appraisal of Magical Education in Europe
Hogwarts: A History
The Tales of Beedle the Bard

Ron
Twelve Fail-Safe Ways to Charm Witches
Flying With the Cannons

Quidditch
The Beaters' Bible by Brutus Scrimgeour
Beating the Bludgers--A Study of Defensive Strategies in Quidditch by Kennilworthy Whisp
Flying With the Cannons
Handbook of Do-It-Yourself Broom Care
He Flew Like a Madman by Kennilworthy Whisp
The Noble Sport of Warlocks by Quintius Umfraville
Quidditch Teams of Britain and Ireland
Quidditch Through the Ages by Kennilworthy Whisp
Wonder of the Wigtown Wanderers by Kennilworthy Whisp
Potions
Advanced Potion-Making by Libatius Borage
Asiatic Anti-Venoms
Magical Drafts and Potions by Arsenius Jigger
Transfiguration
A Beginner's Guide to Transfiguration by Emeric Switch
Intermediate Transfiguration
Guide to Advanced Transfiguration
Theories of Transubstantial Transfiguration
Herbology
Encyclopedia of Toadstools
Flesh-Eating Trees of the World
Magical Water Plants of the Mediterranean
One Thousand Magical Herbs and Fungi by Phyllida Spore
History
Great Wizarding Events of the Twentieth Century
Great Wizards of the Twentieth Century
Important Modern Magical Discoveries
Notable Magical Names of Our Time
A History of Magic by Bathilda Bagshot
Hogwarts: A History
Modern Magical History
Sites of Historical Sorcery
A Study of Recent Developments in Wizardry

Lockhart
Break With a Banshee by Gilderoy Lockhart
Gadding With Ghouls by Gilderoy Lockhart
Gilderoy Lockhart's Guide to Household Pests by Gilderoy Lockhart
Holidays With Hags by Gilderoy Lockhart
Magical Me by Gilderoy Lockhart
Travels With Trolls by Gilderoy Lockhart
Voyages With Vampires by Gilderoy Lockhart
Wanderings With Werewolves by Gilderoy Lockhart
Year With The Yeti by Gilderoy Lockhart

Muggle studies
Home Life and Social Habits of British Muggles by Wilhelm Wigworthy
Muggles Who Notice by Blenheim Stalk
The Philosophy of the Mundane: Why Muggles Prefer Not to Know by Professor Mordicus Egg
Divination
Broken Balls: When Fortunes Turn Foul
Death Omens: What To Do When You Know The Worst Is Coming
The Dream Oracle by Inigo Imago
Predicting the Unpredictable: Insulate Yourself Against Shocks
Unfogging the Future by Cassandra Vablatsky

Cooking
Charm Your Own Cheese by Gerda Catchlove
Enchantment in Baking
One Minute Feasts - It's Magic!

Healing
Common Magical Ailments and Afflictions
The Healer's Helpmate

DADA
A Compendium of Common Curses and Their Counter-Actions
Confronting the Faceless
Curses and Counter-curses
The Dark Arts Outsmarted
The Dark Forces: A Guide to Self-Protection by Quentin Trimble
Defensive Magical Theory by Wilbert Slinkhard
Practical Defensive Magic and Its Use Against the Dark Arts
The Rise and Fall of the Dark Arts
Self-Defensive Spellwork
Hexes and jinxes
Basic Hexes for the Busy and Vexed
Jinxes for the Jinxed
Care of Magical Creatures
Dragon Breeding for Pleasure and Profit
Dragon Species of Great Britain and Ireland
From Egg to Inferno, A Dragon Keeper's Guide
Men Who Love Dragons Too Much
Dreadful Denizens of the Deep
Fantastic Beasts and Where to Find Them by Newt Scamander
Fowl or Foul? A Study of Hippogriff Brutality
Handbook of Hippogriff Psychology
The Monster Book of Monsters
Triwizard Prep
A Guide to Medieval Sorcery
Madcap Magic for Wacky Warlocks
Olde and Forgotten Bewitchments and Charmes
Powers You Never Knew You Had and What To Do With Them Now You've Wised Up
Saucy Tricks for Tricky Sorts
Weird Wizarding Dilemmas and Their Solutions
Where There's a Wand, There's a Way
Restricted Section
Famous Fire Eaters
Fifteenth Century Fiends
Magick Moste Evile
Moste Potente Potions
Purebloods
Nature's Nobility: A Wizarding Genealogy

Misc.
Prefects Who Gained Power
The Standard Book of Spells (Grades 1 -6) by Miranda Goshawk
Magical Theory by Adalbert Waffling
Invisible Book of Invisibility
Armando Dippet: Master or Moron? by Rita Skeeter
The Life and Lies of Albus Dumbledore by Rita Skeeter
Blood Brothers: My Life Amongst the Vampires by Eldred Worple
Enchanted Encounters by Fifi LaFolle
Hairy Snout, Human Heart
Little People, Big Plans by Ragnok the Pigeon-toed
Why I Didn't Die When the Augurey Cried by Gulliver Pokeby
Sonnets of a Sorcerer
Toadstool Tales by Beatrix Bloxam
Etsy
with my other animal blocks :-)
Here is the first one, based on Leia. I adopted Luke & Leia from a shelter in Pittsburgh a year and a half ago. They just turned 3 years old. They are brother and sister (hence the names) and they are super sweet together. They are my first bonded pair, and I will never have a singleton bunny again! They are such social creatures.
I also am super-excited about the Project of Doom!
You can see my blocks on Flickr.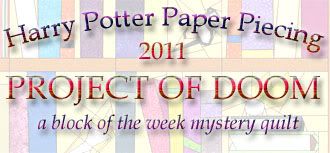 I've wanted to make a bunny block for a while now, since they are my most favorite animal and pet. I've decided to do a series of rabbit patterns, based on the buns I've had over the years. I'll be posting them for sale on
I found this great fabric for the back- and it has coordinating fabrics that I used for the front borders.
I just created an etsy store, and I will be posting those patterns for sale once I get the files prepared!
[EDIT] and here's the link -
http://www.etsy.com/shop/SchenleyP
And in other news. . . I asked my sister what I could design for her for Christmas, and she said something with the Glee logo. I created the pattern, but we still haven't decided what to turn it into. But I was itching to try it out, so here is the 5x5 block.
We're all Gleeks.
I mentioned before that I was working on new original designs, but that I couldn't post them because they were for a gift - the gift has been given, so here they are!
Today I got Luke involved in some crafting. It's been a long week. . .
http://www.craftster.org/forum/index.php?topic=270555.0
I'm going to have to slow down on the Potter patterns, as I want to make a lot of Christmas gifts this year. And I'm not sure how many I can post on here, in case the recipients stumble upon this site. But I'm working on a few woodland patterns right now :-)
My mom has commissioned me to make some yo-yo projects for her/us to give as gifts - a few trees (like
the one I made for Mom
), a table runner for Mom's present, and a journal cover for her friend.
First - if any of my crafty friends who can crochet want to make me something . . . :-)